In the modern world of safety and security, a comprehensive, fully functional security solution is essential to preserving the lives and property of our customers. CCTV is a powerful tool in preventing crime; however, early warning signals, back-stop devices and reporting from a centralized monitoring system are important. This article will give you an overview of the system and how the centralized file monitoring station "CMS" works.
Explanation of "CMS" and overview of monitoring system
CMS stands for centralized monitoring system "Central Monitoring Station". In the past, humans acted as both alarm sensor and transmission medium, referring to "Guard" that used manpower to monitor security, but that was replaced by telegraph. and then the burglar alarm system. However, technology has changed drastically and pencil and paper record keeping systems have been replaced by monitoring and coordination software. Some types of surveillance systems currently in use are: Alarm systems, access control systems, fire alarm systems, and closed circuit television (CCTV) systems. Various types of sensors are also incorporated in all security, fire and other alarm systems that can detect physical changes in the environment, interpret events that may be taking place, and transmit information. back to them. back to the central processing unit, where the dispatchers can read it in the central alarm station CMS. In a modern central dispatching and monitoring station, most communication is done by means of telephone communication, immediately making a call when an alarm signal is received. The most important component of central monitoring and coordination are supervisors and advanced technology experts with good communication skills, problem-solving abilities, well-trained and constantly improving skills. high skill. qualification.
Alarm systems are used to provide early warning of intruders and in many cases alarm systems form the backbone of a comprehensive security solution.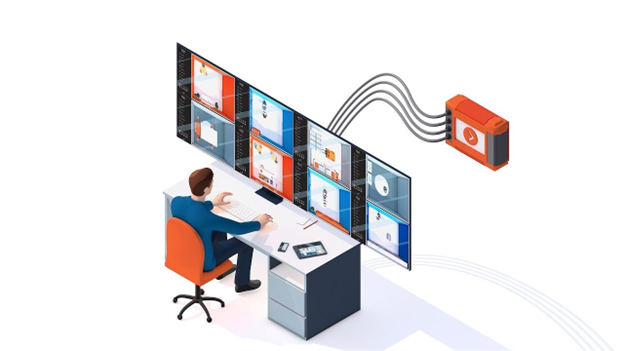 Benefits of the service
A. Instant emergency help:
A central monitoring system means dedicated readiness to take appropriate actions if alarms are triggered. Supervisors are trained professionals who closely follow the right procedures and procedures to minimize damage or danger by reacting quickly. The company offers an optional tuning service to meet your unique needs. Simply put, the central monitoring station ensures that professional assistance is only moments away in the event of an emergency.
Central monitoring station not only monitors your living area but also your entire property whether you are at home or not. That means, even if you're not indoors, your property is monitored around the clock by experts if an alarm is triggered. It is the best way to keep you and your family safe not only from thefts and all kinds of residential crimes but also situations like fire, smoke, gas leaks and CO poisoning. . Having a security system that keeps track of all emergencies can simplify things while still providing comprehensive protection.
B. Monitoring health status:
The company's supervisory team is always at work whether you are awake or asleep, at home or away. It's not just about giving a feeling of peace of mind, always putting your safety first. Especially useful for households with elderly members or children requiring special attention.
C. As a deterrent for criminals, breaking into:
Criminals are less likely to attack your property if they know that it is being monitored by a security company 24 hours a day, seven days a week for 365 days. A surveillance system and a security system can provide evidence of a break-in to the authorities and aid in the subsequent prosecution of criminals.
D. Reporting events for closer management monitoring:
When alarm signals, events have occurred, writing a quality report is one of the most important tasks of a security professional and it is essential to be honest in the reports. With SORIAN's report template automatically extracted from the system, this is transparent and objective in reporting, in addition, the report template can change the way of notes depending on the customer's requirements. row.
Conclusion:
- One of the most important benefits of a central surveillance system is the rapid notification of an emergency to the appropriate authorities, whether medical, fire or police. Moreover, it greatly reduces the response time to better deal with all kinds of emergencies.
- Immediately contact SORIAN consultants - 24/7/365 monitoring service for peace of mind every day.